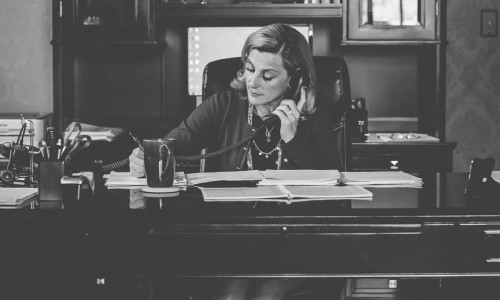 ATTORNEY JENNIFER HINKEBEIN CULOTTA
Relevant Experience
Jennifer has extensive trial and courtroom experience. In her three-plus decades as a litigator, she has tried more than 300 jury trials in state and federal courts, from both sides of the aisle. Jennifer has defended both individuals and corporations faced with huge criminal legal problems, locally, nationally and internationally.

In addition to her courtroom proficiency, Jennifer has assisted in several internal investigations in the United States and foreign countries.

Her practice focuses on rebuilding the individual be it through expunging a criminal record or assisting in establishing financial freedom through Chapters 7 & 13 of the Bankruptcy Code.

Jennifer has been recognized for her capable litigation experience, she has appeared on TruTV (formerly Court TV) to provide legal commentary on the trial of State v. Houston, Roane Criminal No. 13404A and B (allegations of a double homicide entailing the death of two police officers).

Jennifer regularly assists individuals and corporations through all phases of litigation and has tremendous experience defending the rights of individuals charged with serious criminal offenses in both state and federal court. She also has significant experience representing individuals in Bankruptcy proceedings, helping her clients establish a clean financial record moving forward.
Representative Matters
Jennifer has the tenacity to investigate allegations and secure a federal dismissal of gun charges when justice dictated. United States v. Eady.

After a 1½ year investigation into allegations of murder, Jennifer was able to effectuate the dismissal of two cases and the release of her clients who were falsely accused of murder (following dismissal, Culotta & Culotta filed a civil rights claim and successfully negotiated a large settlement for both clients). State v. Martin; State v. Guy.

Ms. Culotta successfully secured a dismissal with prejudice of all rape charges against a man being held in jail in the State of Indiana. State v. Chalker.

Even in the face of DNA evidence, medical evidence and a failed polygraph, Jennifer successfully defended to a Not Guilty Verdict a grandfather who was accused of molesting his granddaughter. State v. Askren.

Ms. Culotta defended an individual falsely accused of Rape in the State of Indiana, just outside of Indianapolis. State v. Howell. Ms. Culotta skillfully defended Mr. Howell in his jury trial, resulting in a Not Guilty Verdict as to all charges.

Again, understanding that an outright dismissal is better than a jury trial, Jennifer successfully negotiated the dismissal of all child molesting and criminal deviant conduct charges against a man being held in jail in the State of Indiana. State v. Woods. Prior to Ms. Culotta's acceptance of representation, the client sat in jail for over three years, while former attorneys merely continued the case. Ms. Culotta, through a thorough forensic investigation, established the client's innocence with respect to the charges against him and secured a complete dismissal from the State of Indiana. Following dismissal, Culotta & Culotta filed a civil rights claim against the State of Indiana, and secured a large settlement for Mr. Woods.

Ms. Culotta served as the lead trial counsel successfully defending a Fortune Global 200 company in United States District Court in a wrongful termination claim brought by a corporate executive following a large-scale internal investigation, and successfully obtained a million-dollar jury verdict for the company on its cross-claim. Piratello v. Philips Electronics North America Corporation.
Previous Experience
Partner at Hunton & Williams LLP, Washington, D.C.
Executive Counsel to the Director of the Criminal Enforcement Program within the U.S. EPA, Washington, D.C.
National Academy Instructor at the Federal Law Enforcement Training Center, Glynco, Georgia
Homicide Special Prosecutor in the New Orleans District Attorney's office, Louisiana
Organizations and Professional Memeberships
Member, Indiana State Bar
Member, Commonwealth of Kentucky Bar
Member, District of Columbia Bar
Member, Louisiana Bar
President, Clark County Public Defender Board, 2014 – present
Member, Indiana Supreme Court Committee on Rules of Practice and Procedure,2017 - present
National Association of Criminal Defense Lawyers
Indiana Bar Association
Kentucky Bar Association
District of Columbia Bar Association
University of Louisville Association
Education
J.D., Brandeis School of Law, University of Louisville, 1987
B.A., University of Louisville, cum laude, 1984
Awards and Professional Recognition
AV® Preeminent™ Rated Martindale-Hubbell
National Association of Distinguished Counsel, Top One Percent
Recipient, 2014, 2015 Top 100 Criminal Defense Lawyers in Indiana
Guest Commentator, TruTV (formerly Court TV)
Recipient, 2002 Top Defense Wins, The National Law Journal
Recipient, EPA Award for Outstanding Legal and Policy Support in Complex Litigation Involving Recently Enacted Legislation Effecting Significant EPA Cases - 2000
Recipient, EPA Award for Outstanding Service - 1999
Recipient, EPA Bronze Medal for Commendable Service, United States Environmental Protection Agency, 1997
Received, EPA "Outstanding" evaluations during every period of evaluation during years of hire
Recipient, Jefferson Public Defenders Walker Award (outstanding representation of indigent offender) 1990
Practice Areas
Criminal Defense
Bankruptcy, Chapter 7 & 13
Expungements
Contact