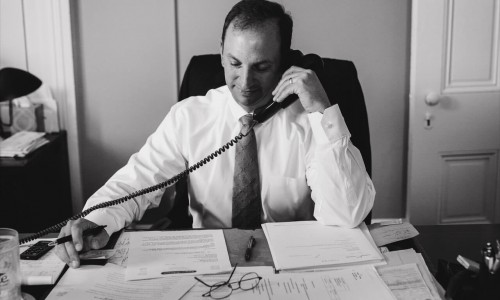 ATTORNEY JAMES CLAYTON CULOTTA
Relevant Experience
Clay's experience includes representing corporations and individuals in business formation, contract negotiation and dispute resolution, employer/employee relations, and private discrimination litigation, including race, age, national origin, gender, disability and §1983 actions against the government.  He has extensive involvement in mediation and arbitration, and has litigated at all levels of federal and state courts throughout the country.
He has assisted corporate clients in developing and implementing corporate compliance programs, employee handbooks, along with educating his clients to be pro-active in their compliance responsibilities.
Clay has broad experience representing both individuals and companies, particularly health care entities in civil, criminal and regulatory matters surrounding heath care licensure law, peer review, Civil Rights claims, Qui Tam (citizen suits) matters and civil RICO.
He has been involved in precedent setting litigation regarding peer review and the National Practitioner Data Bank.
While an Assistant Attorney General, he was lead counsel working on a Federal Grant to investigate and prosecuted drug offenders for the entire State of Louisiana.
Representative Matters
Clay represented an individual who was falsely accused of child molestation in a §1983 Civil Rights claim against the government for false imprisonment and malicious prosecution, successfully negotiating a financial settlement.
Understanding the importance of protecting employees from over-bearing employers, Clay assisted a county employee in a suit against her former employer for age discrimination.  In a similar matter, Clay represented an individual against a private employer for violations of the American's With Disabilities Act.  In both cases, Mr. Culotta secured financial compensation for his clients.
Mr. Culotta argued before the United States Court of Appeals for the Fourth Circuit, successfully against the establishment of a Medical Peer Review Privilege within the Federal Judicial system. Virmani v. Novant Health Incorporated, 259 F.3d 284; 2001 U.S. App. LEXIS 17123.
Clay successfully argued that the National Practioners Data Bank was obligated to abide by the reporting and maintaining of records requirements of the Privacy Act , in essence requiring the data bank to adhere with the policies set forth in the Federal Privacy Act.  Doe v. Tommy G. Thompson, 332 F. Supp. 2d 124,; 2004 U.S. Dist. LEXIS 16317.
Mr. Culotta's practice focuses on business law and compliance, business litigation and dispute resolution, as well as complex civil litigation including civil rights and employment discrimination, Qui Tam (citizen suits) matters and civil RICO.
Because of Mr. Culotta's extensive litigation experience, he has added to his practice the role of Civil Mediator, working with attorneys and their clients to resolve civil litigation without the expense and uncertainty of trial.
Previous Experience
Counsel to hundreds of individuals, entities and organizations
Former Assistant Managing Attorney of prior law firm
Former Special Prosecutor with the Drug Task Force for Louisiana Department of Justice
Former Assistant District Attorney, St. Charles District Attorney's Office, Louisiana
Organizations and Professional Memberships
Member, Indiana Bar
Member, District of Columbia Bar
Member, Louisiana State Bar
Member, Maryland State Bar
Federal District Courts in Indiana, Maryland, the District of Columbia and Louisiana
Federal Courts of Appeal for the Fourth, Fifth and Tenth Circuits
Louisiana Bar Association
District of Columbia Bar Association
Clark and Floyd County Bar Associations
Education
J.D., Southern University Law Center, Baton Rouge, Louisiana, 1993
B.G.S., Louisiana State University, Baton Rouge, Louisiana, 1990